Facelifting
Ergebnisse unserer Chirurgie: Facelifting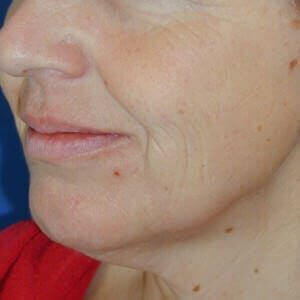 The term facelift is used to describe a variety of surgical procedures performed to remove wrinkles and excess skin from the face and neck and to improve contours and add volume in these areas.
Procedure
Over time, a wide variety of corrective surgical features for the face have been developed and today, patients have an extensive range of options at their fingertips. This section of the website focuses on corrective surgery to the lower half of the face and neck. For information on cheek lift, eyelid surgery or forehead lift, please click on the corresponding link. As a basic principle, the more complex the procedure, the better and more long lasting the results.
A neck and facelift operation thoroughly enhances the cheek area, lower jaw line and neck. This operation is best carried out under general anesthesia and, if preferred, can be performed as an outpatient procedure. The incisions are made around the ears and the resulting scars are barely visible. In most cases, an additional small incision is required under the chin. Swelling and discoloration usually last between one and two weeks and any feelings of tightness around the ears following the operation normally wear off after four weeks. The results are long-lasting and generally remain for more than ten years. This operation is ideal for patients who want the best possible results and are prepared to invest time and money in the procedure.
A simpler facelift procedure, the MACS lift, can successfully enhance the lower jaw line and cheek area. This operation is carried out under local anesthesia on an outpatient basis. The procedure is relatively short and leads to less scarring, as incisions are only made in front of the ear. The swelling and discoloration are less noticeable and only last a short amount of time. Feelings of tightness may remain for up to four weeks. This method is recommended to patients who do not wish to go under general anesthesia, as well as those who would prefer fewer scars or a more minor procedure. However, it must be taken into account that the results only last around half the amount of time as those produced by a full neck and facelift. This procedure is also less effective at removing lines from the neck.
Other even simpler procedures include facial fat grafting and thread lifts. These operations are particularly suitable for patients who want to avoid scars and undergo more minor surgery. The procedure is carried out under local anesthesia on an outpatient basis, is relatively quick and produces hardly any swelling or discoloration. While fat grafting produces long-lasting results, the effects of thread lifting are significantly more short-lived.